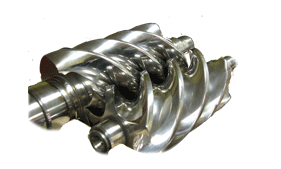 Kitchener, Ontario
Canada
519 578 5454

email
Service
Preventative Maintenance: A very inexpensive way to keep your air compressor running for many years. By servicing your compressor as per the manufactures guidelines we will protect your capital investment minimizing your downtime. Our computer system can keep track of when your compressor is due for service, and what needs to be done, relieving a worry from your mind.
Emergency Repairs: When the unexpected happens we will be there to fix your problem ASAP. We understand that compressed air is the blood of your facility and will get you back up and running. We offer rental air compressors if your machine will not be repairable in a timely fashion.
Installation: We install everything we sell; whether it is a single line filter, or a full compressed air solution including multiple compressors and a full plant of piping. We will take the time to layout your installation in a way that makes sense both for you to operate it, and us to maintain it. A moment of thought while installing your equipment can provide many saved hours over the life of maintaining it. Just another testament to our long term approach of providing the best possible service.

While some companies just change parts until it works; We just change the parts that don't work. TM